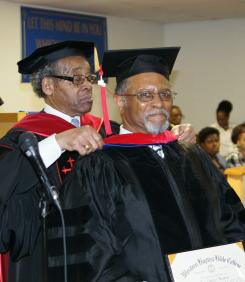 Graduation1 2013 Congratulations to our graduates. Commencement is the culminating event of a journey and academic career. Graduation candidates should follow the procedures below.
Requirements for Graduation
1. Satisfactory completion of a minimum of 120 semester credit hours and the hours properly
2. The prescribed Departmental and major requirements must be fulfilled, including approved electives, with an average of not less than "C" in the total program of studies or a grade point.
3. All transfer students must spend at least their senior year in residence study at Western and must earn a minimum of 32 semester hours at Western to qualify for a degree from Western.
4. The student must show evidence of high Christian character and soundness in the faith and satisfactorily meet the practical Christian work requirements.
5. The student must show evidence of sincere devotion and zeal for Christian service, and
6. All financial obligations to the college must be met before graduation.
The satisfactory completion of prescribed courses with the proper number of credit hours and grade points does not guarantee graduation. The student must exemplify the worthiness of graduation from Western Baptist College in all of his traits as well as prove his merit in his chosen academic field. The Faculty, Administration, or Trustee Board reserves the right to deny graduation to any student whose traits, attitude, character, testimony and/or academic achievement are contrary to the regulations and standards of Western Baptist Bible College.